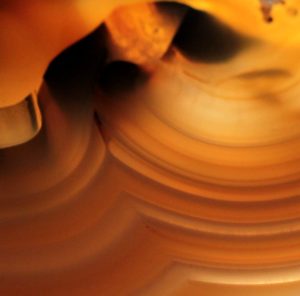 Chalcedony comes in many colors from the common tannish-grey often found on rock outcrops to greens and purples, reds and tans. People have given separate names to the various colors – bloodstone when there is spotted red (guess where that name comes from), carnelian when a bright red, a dirty brown chert when the quartz mineral is mixed with clay, bright apple-green chrysoprase, and jasper which is generally opaque. The naming is subjective – but these stones are among the oldest used in jewelry and some named as birthstones. You can find out more about the various types of silica in the Quartz: By Any Other Name.
Chalcedony, Jasper, and Agate are only three forms of very, very fine-grained quartz – the crystals are there, but so tiny that it exhibits none of the crystal shape – just the hardness of quartz with a translucent luster. Agate is banded or shows other structures and chalcedony is generally non-banded. Jasper is generally opaque due to inclusion of clay. The names are not important – they are made of the elements silica and oxygen, and each has the mineral structure of quartz.
Hesse, Reinhard. "Silica Diagenesis: Origin of Inorganic and Replacement Cherts." Earth Science Reviews, 1989. https://doi.org/10.1016/0012-8252(89)90024-X
Pabian, R., Jackson, B, Randy, P and J Cromartie, 2006,Agates, Treasures of the Earth,Firefly Books, 184 pp.
Polka Dot Agate Mine
Central
Oregon, United States
This agate is not red from natural processes, but it is not done in the laboratory! The Polka Dot Mine produces many colors of agate including the Snow Drift Agate here at Susan Eriksson. However, the red agate was formed by heat. Indigenous people would mine the 'flint' for tools by building a fire next to the rock face and then dousing it with water to break up the rock. The heating process turned the rock red – and the remnants of this process have been made into beads containing some red.